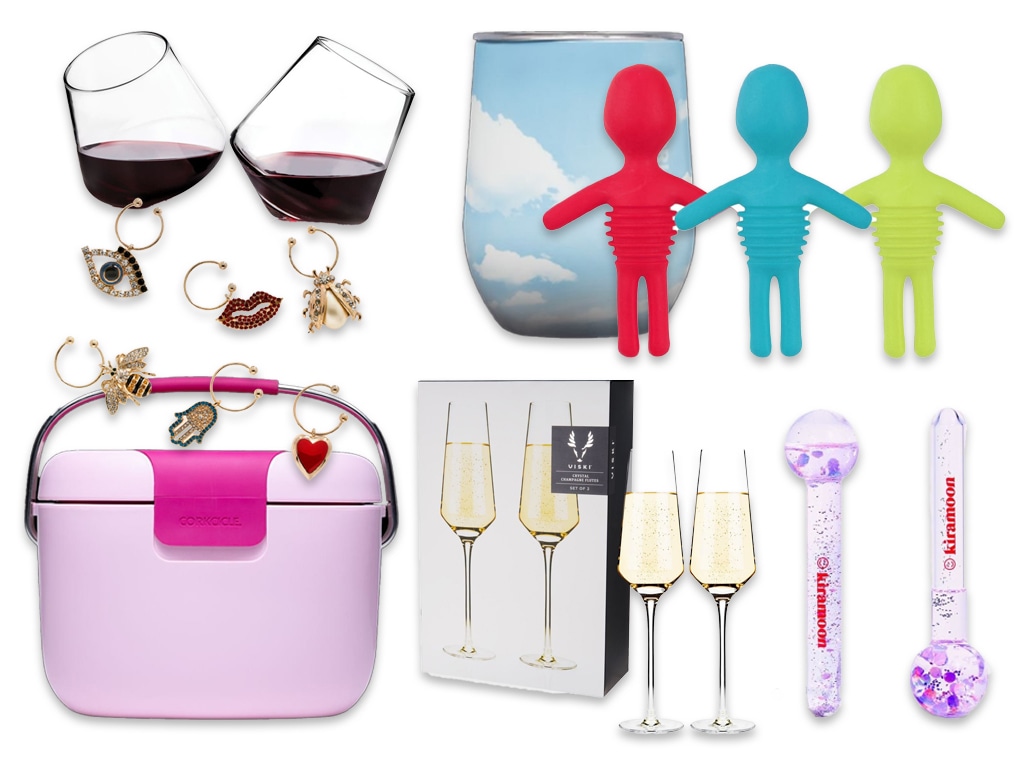 The brands featured in this article are partners of NBCUniversal Checkout. E! makes a commission on your purchase. Prices are accurate as of publish time. Items are sold by retailer, not E!.
Sure, no one needs an "excuse" to drink wine, but isn't it always nice to have one? May 25 is National Wine Day, and I intended to celebrate in style. Ideally, we all can. After all, why else would I put together this list of adorable wine glasses and accessories? My birthday isn't even until September.
Whether you're drinking alone or in a group, plan on hitting the trail with a cooler or waiting for tannins to mellow from the living room, or any of the literally endless activities in between, there's a way to make National Wine Day a day one to celebrate. Especially with a long weekend on the horizon.
So, if you're sipping Champagne, Prosecco, rosé, red, or white — or even the how-can-this-even-exist Lambrusco, which is a chilled and sparkling red that's delicious (please try it sometime!) — I think there's something in here to enjoy. Sit back, pop that cork, and start scrolling. Cheers!
Spiegelau Prosecco Glass Set
Let's get one thing straight: Sparkling wine is still totally wine. In fact, it's some of the best kinds. If you're into Prosecco, these ever-so-rounded glasses make for excellent enjoyment for chilled wine, Mimosas, Bellinis, and whatever else you're sipping on today.
Corkcicle Daydream Stemless Glass
Stemless, versatile, and super-cute, this Corkcicle cup makes each sip feel a little bit like heaven.
Wine Flight Glasses, Set of 6
Sampling from home has never looked so professional, official, or possible. Or fun!
Joanna Buchanan Gemini Coasters, Set Of Four
Exquisitely hand-beaded coasters from Joanna Buchanan ensure that no matter how sloppy your group might get, your table will stay fresh and clean.
Joanna Buchanan Celestial Wine Charms
Speaking of Joanna Buchanan's whimsical artistry: These cosmic-inspired wine charms keep your stemware sorted in style.
Viski Angled Crystal Champagne Flutes
Architectural angles lend an artful touch to these champagne flutes.
Viski Rolling Crystal Wine Glass Set
They're more than just aesthetically pleasing: Per Viski, when you "roll these glasses around," it to "create[s] a swirling motion that aerates wine and releases aroma." AKA, they make your wine more enjoyable to the palette.
True Bruce Wine Stopper Set
True's delightful, dude-shaped bottle stopper trio infuses your imbibing with a little extra color.
True Chill Modern Ice Bucket
"Roomy, featherlight, and stylized," this easy-transport bucket keeps the wine displayed (and cooled), wherever the party might be.
Host Wine Freeze XL Cooling Cups
This duo is lined with cooling gel and "constructed with an insulated silicone band for comfortable handling," plus they're really big. In other words, you can sip a giant glass of wine that's chilled to perfection — for as long as it takes you to enjoy it.
Corkcicle Chillpod
Celebrating in a group? Corkcicle's signature Chillpod has a "roomy 25 quart capacity for up to 32 cans, [a] non-slip top that functions wonderfully as a table, and a triple-threat storage divider/cutting board/bottle opener."