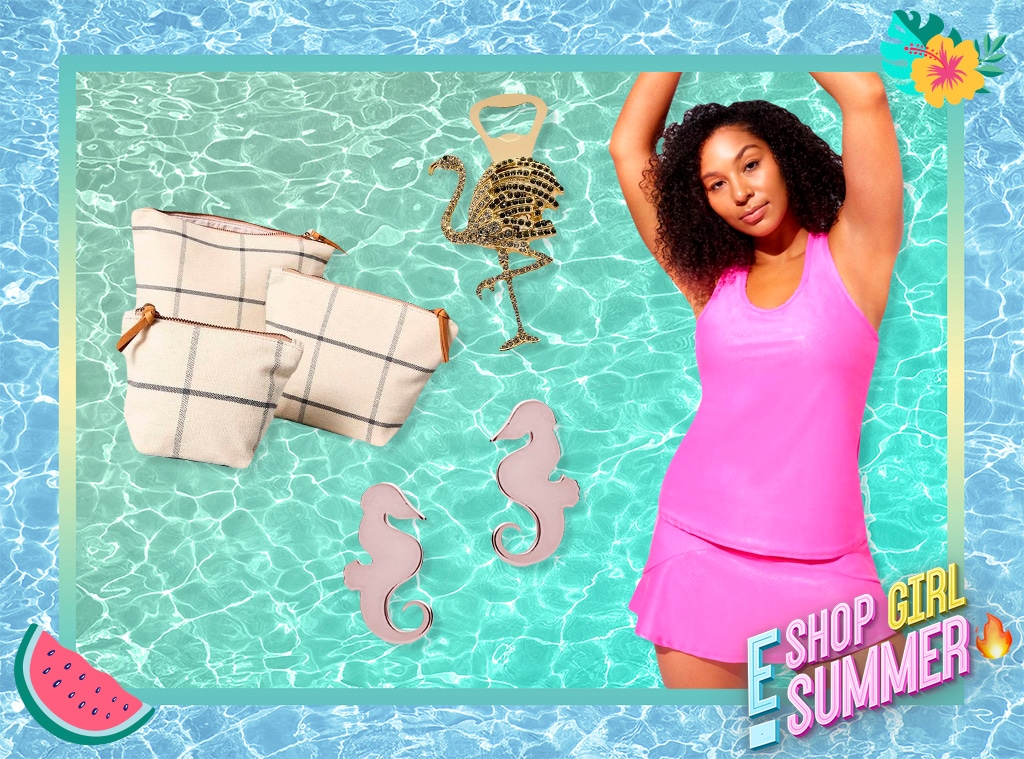 The brands featured in this article are partners of NBCUniversal Checkout. E! makes a commission on your purchase. Prices are accurate as of publish time. Items are sold by retailer, not E!.
Summer break ending, festival season's encore, school starting...whatever staycations or getaways you may have planned during this last gasp of the season, it's never too late to shop for them. And if you decided to splurge on a plane ticket, hotel room, or luxury yurt this year, there's a chance you might be feeling stuck.
Never fear: I'm here, and I have a list of vacation must-haves that won't break the bank. Just because your budget is lower than it was a month ago doesn't mean you can't have a fancy towel, a portable badminton set, and anything else you need to make your break a true break. 
After all, "end of summer" means different things to different people. For some, it may represent traveling across the country to party for a long weekend. For others, it might mean looking for ways to transform their backyards to keep kids occupied just one more time. However you choose to celebrate (or just try to push through it), it's totally doable with the essentials and a budget.
Scroll on for our picks for vacation must-haves under $50, and remember: Reapply sunscreen after swimming!
UnSun Cosmetics EVERYDAY Mineral Tinted Face Sunscreen
"The lightweight, everyday version," of UnSun Cosmetics' "hero powerhouse," the Everyday Sunscreen has a "silky finish" and provides sun protection, minus the "white residue" that's all too common in most sunscreens.
Corkcicle Sierra Sport Canteen
"Designed for adventure and made to last," the Sierra Sport Canteen will help you stay hydrated and eco-conscious throughout the week.
Sunnylife Badminton Set | Casa Blanca
Everything you need to get a little friendly badminton competition is right here, and it's all in a convenient neoprene carrying case.
Ideal Fashions Clark Polarized Sunglasses
Sure, this might not be the sassiest pair of sunnies in your collection, but they include polarized lenses that "eliminate 100% of UVA/UVB [rays], harmful blue light, and glare" per the brand. For an outdoors adventure, you can't beat that.
Hearth & Hand x Magnolia Grid Pattern Canvas Zip-Pouch Set
Crafted from easy-to-clean canvas in a stylish windowpane plaid, this trio is perfect for keeping your essentials organized when you're on the move.
Ideal Fashions Chase Front Pocket Wallet
Some purses and outfits just don't call for a full-sized wallet, and that's doubly true for vacation looks. The solution? This slim (yet useful!) "front pocket" wallet. Sure, it's technically designed for men, but whatev.
Viski Footed Crystal Punch Cups
A quality rum punch deserves the perfect acoutrements from which to enjoy it.
Sunnylife Summer Games Towel | Multi
It's a soft beach towel that doubles as not one, but two game boards. So, triples, technically.
Kenny Flowers The Beverly Hills Kimono
Vibrant, luxe, and best of all, on sale, the Beverly Hills kimono from Kenny Flowers finishes seasonal looks with ankle-skimming style.
Sterling Forever Sterling Silver Seahorse Studs
She wears silver seahorse studs down by the seashore.
Joanna Buchanan Flamingo Bottle Opener
Add some razzle-dazzle (and convenience) to every bottle-opening moment with this Flamingo-topped bar accessory from Joanna Buchanan.
Sun Squad Bubble Wands
I mean, what's an afternoon outdoors without a set of bubble wands to go with it?
Rains Tote Bag Mini
Rains' petite version of their classic tote includes all of its best features — including a light weight and water resistance — now in a travel-friendly size.
Laguna Beach Textile Company Classic Turkish Towel
There's no need to keep using a ratty old beach towel for tradition's sake. This sophisticated one from Laguna Beach Textile Company is an instant and effortless upgrade.
Make it a glam girl end-of-summer with affordable Love Seen Lashes from new RHONY star Jenna Lyons.