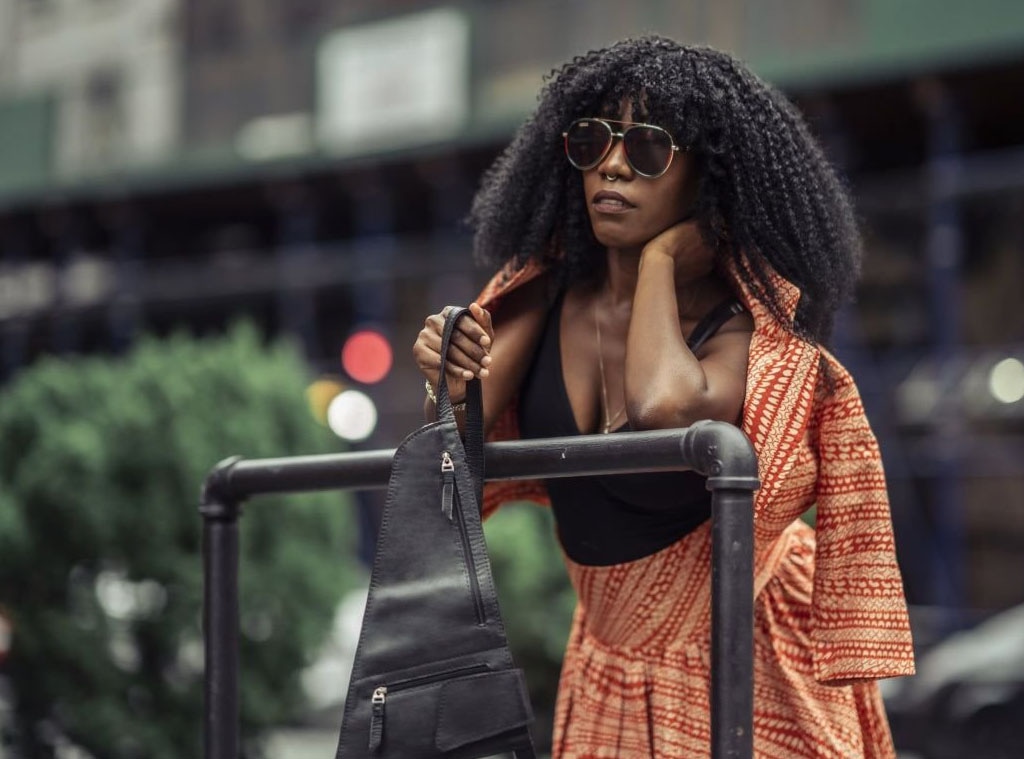 The brands featured in this article are partners of NBCUniversal Checkout. E! makes a commission on your purchase. Prices are accurate as of publish time. Items are sold by retailer, not E!.
Have you ever experienced airport anxiety? Not just about gates and timing, either, but about cramped spaces, keeping the essentials handy, and a general dread of your well-honed routine being thrown off-kilter? 
Well, before you get too worked up, it turns out that you and I are not the only ones who've experienced this. In fact, eliminating airport-stress and helping maintain wellness on the go is basically why Flex-N-Fly was invented.
"Bridging the gap between travel and wellness," is how the brand describes itself on its website.  Their most popular products — minimalist travel bags and cushioned travel mats — do exactly that. 
Crafted to help travelers "discover their inner sanctuaries" before, during, and after flights (or, you know, road trips, work trips, and maybe even family vacations), Flex-N-Fly's mats and bags are lightweight, unisex, and ultimately: Functional. They're meant to help take some questions (Where will I store my cards? My phone? Can I even take a yoga or Pilates mat with me?) out of the equation altogether.
Below, learn more about a few of Flex-N-Fly's standout products, take a deep, relaxing breath, and maybe even pick up a few things ahead of your next long weekend getaway.
Flex-N-Fly Flex|Bag Minimalist Travel Bag - Leather
Fanny packs have gotten a bad rap. This one is going to change your mind. Flex-N-Fly's unisex bags are handcrafted with "100% authentic" leather (or suede), and feature an easy-to-carry, easy-to-access, and ultra-versatile triangular design. The minimalist design features maximal style; the unisex bags include "special pocket[s] for your phone, credit cards, keys, and more." On top of that, they're made with "splash-proof" fabric that's "difficult to cut into." So when worn extra-close? It's basically its own built-in "anti-theft" device, too.
Flex-N-Fly Flex|Bag 2.0 Minimalist Travel Bag - Faux Leather
The faux leather twist on Flex-N-Fly's classic bag is durable," "easy to maintain," and a "touch of luxury," per the brand. It's more than just faux in name; it's even crafted by hand in a separate facility from the brand's leather bags — but still includes all of the anti-theft features, splash-proof materials, and variety of colors as the original.
Flex-N-Fly Flex|Mat Blue Rise 2.0
Per the brand, the Flex|Mat 2.0 is designed for "the individuals that need a little more cushion for their knees" during their go-to workouts. It's the same size and style as Flex-N-Fly's signature travel mat, just with a 3mm thickness. But can you still throw this slightly more padded version in the washing machine? Of course you can.
Set the mood for your next practice with these playful Candier Candles. They make great gifts for your bestie, too.