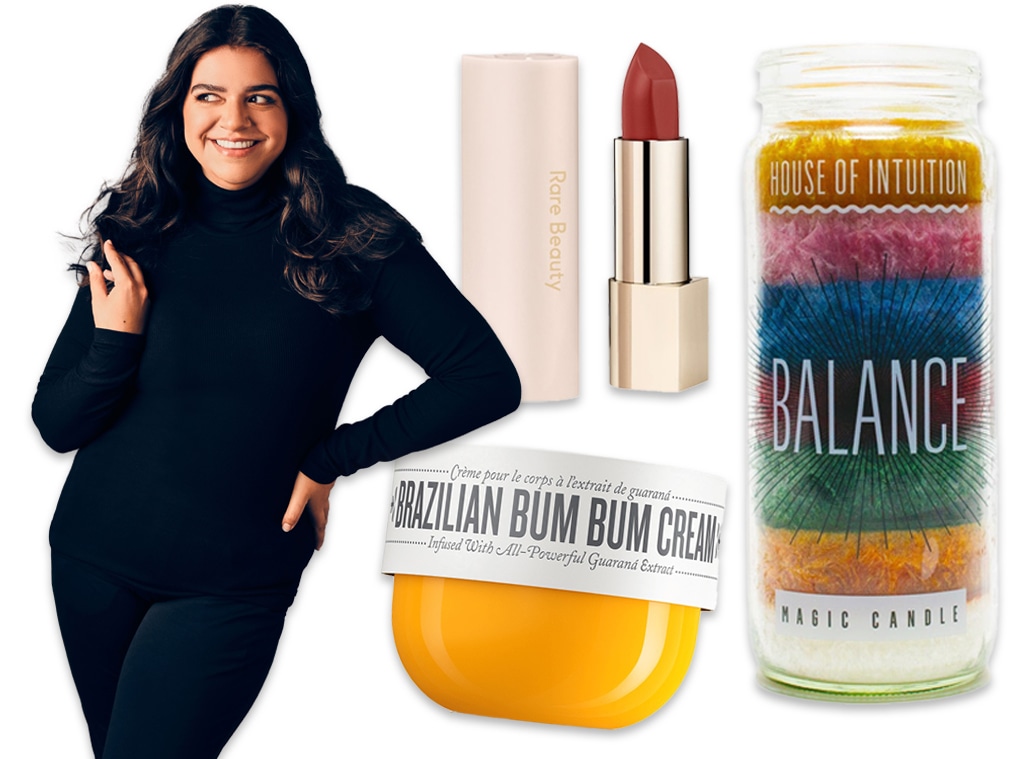 Irvin Rivera
We interviewed Mayan Lopez because we think you'll like her picks at these prices. Lopez vs Lopez is part of the NBCUniversal family. E! has affiliate relationships, so we may get a commission if you purchase something through our links. Items are sold by the retailer, not E!. Prices are accurate as of publish time.
Mayan Lopez has got a lot on her plate.
The actress, producer and star of Lopez vs Lopez is currently working alongside her co-creator and father, George Lopez, on the second season of the layered comedy series, which is slated to air early next year. The series delves into fictionalized renditions of Mayan and George, and their healing relationship after spending years out of contact. As such, Mayan is always keeping things real, whether she's talking about her career, identity, relationship with her father or sharing bits of her life on TikTok. Her viral videos largely inspired Lopez vs Lopez, after all!
Now, Mayan is here with E! to share some of the items she simply can't live without. From a body cream that "smells like the Brazilian vacation of my dreams" to her favorite matte lipstick, Mayan's essentials do not disappoint. 
When it comes to her shopping habits, Mayan shares that her mom "got me hooked on auctions and now I have a literal elephant in the room! Well, a dining room table shaped like an elephant. It's a one-of-a-kind conversation piece at a fraction of the original price. My kind of deal, honey!"
Aside from unique auction items, Mayan has tons of favorites from Sephora, Amazon and more. If you want to shop more of her favorite deals and finds, continue ahead to read up on the products that she uses every single day.
Rare Beauty by Selena Gomez Kind Words Matte Lipstick
"It's taken me years, but I finally have a signature lipstick shade thanks to Selena Gomez!" Mayan explains. "I'm a huge fan of her company, Rare Beauty, and the fact that they support mental health organizations with each sale. I'm never without the Kind Words Matte Lipstick in Bold because I always have back-ups."
Brazilian Bum Bum Cream
"This cream literally smells like the Brazilian vacation of my dreams— especially when I need an escape while I'm stuck in LA traffic," Mayan explains. "The cream is the perfect consistency, and I can't mention enough times how AMAZING it smells. I'm a proud member of their cult-following and never go a day without using it in my routine."
House of Intuition
Mayan feels most relaxed when "cuddling with my two Frenchie's.. I mean kids…"
In addition to her cuddle session, the actress adds, "I'm a little witchy, so the House of Intuition: Magic Intention Candles are constantly burning at my house. Whatever you're feeling anxious about, there's a candle for that!! Plus, they're a local, LGBTQ+ and Latinx owned company which I love! They make great gifts also."
HULKEN - Large, Silver Reusable Grocery Bag On Wheels
"My love affair with Hulken bags started with me stealing my mom's and her making me get my own," Mayan shares. "They are durable, chic and will save you many trips. You'll have to get your steps in some other way, but you will never go back!"